If a week ago, the Fausto Carvalho has provided us with an impeccable list of desirable places to have a drink in the city. Figueira da Foz, in its article Bars, Places and Dancing: having a drink at night in Figueira da FozToday, it extends beyond the urban area, showing us that it is not only in the city that bonds are forged over a bar table and a glass of [ _____________ ].
So let's move on, without further ado, to an alternative (or is it complementary?) itinerary on where to have a drink… outside the city. Because broadening horizons is also about getting out of our most familiar places and experiencing new environments.
There is so much to discover, so much to know.…
Based on what I know and frequent – there is no time for everyone, nor for everything – I leave you with some suggestions that can help you in the search for the perfect "spot".
So let us begin.
In the imposing altitude, right in the center of Casal do Mato, comes the Café Cabecinho . Classic café, with counter, tables and terrace, drinks, ice cream, always good music, TV. I also highlight a "small" Vespa museum, which attracts fans and not only of this iconic motorcycle. Run by Carlitos Pucarinho and with the helpful help of his mother, Mimi, it's a must-stop.
Going down to the lower Mondego, Mallorca, there in front of the picnic park, there is a cut on the left that leads to the Alambique Music Pub. Recovered by Rosabela, Ricardo and Hugo, in addition to the drinks that can be expected in a bar / pub, excellent menu, it also has food. And a good one. Try the francesinha. Nham nham… Alambique is also famous for its popular karaoke nights.
We continue downhill, and arrive at the Plaza de la Feria, still in Mallorca. The iconic and highly sought-after Café São João, for which Márcio and his staff are responsible, is a place of records. Every year or so, the awards for the beer brand it represents go there. It's epic! Altar of rounds between friends, good snacks, place of conviviality and familiarity. Top!
Now, a little inland, but not much. Alhadas. Then comes the newest bar/café on this list, the Embassy Bar . Live music, always to the liking of so many, they also serve meals, with a varied menu, always accompanied by a good drink. DJs, a fervent atmosphere and friendliness are all aspects that make us consider a visit.
We go in another direction now, and pass the Serra da Boa Viagem, to the north. Arriving in Quiaios, the My Café is the place to stop. In addition to the drinks you can expect in a café central to the town, comfort food is always delicious and well cooked. Family atmosphere, which is provided by Nélson "Gibson" Martins and family and staff, should be a place to stop.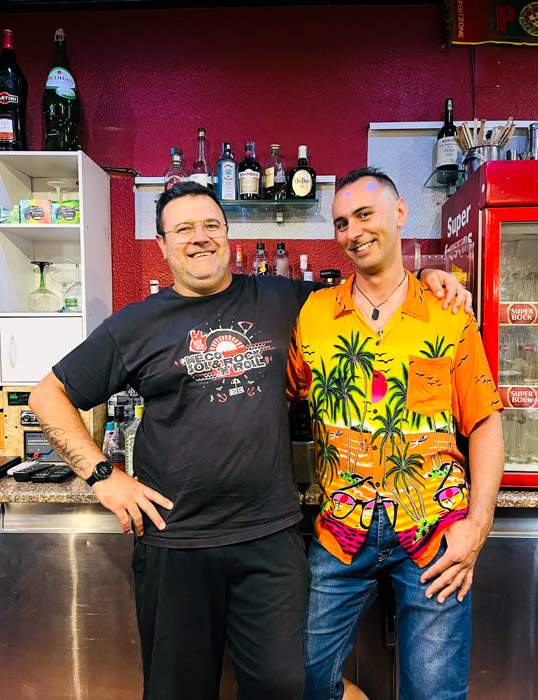 On the way to the sea, right on the sand, the Bart . Recently renovated and expanded, it is the "home" of Martim and Sónia, as well as all their friendly staff. Sunset there takes on a new meaning. Drinks, snacks and lots of friendliness. Is more needed?
Let's walk, the route takes a few kilometers already, and head south.
We arrived at the Lavos Coast.
Here, I must highlight the multicultural and varied role provided by the Fishermen's House . Young people, determined, and lovers of their land, they always have activities and programs with lots of animation, good food and healthy and friendly conviviality.
Also on the Coast, the Xiringuito . Erected just over a year ago on the beach, imagine the views! Rita and Carlos' project of a lifetime, perfect to escape the hustle and bustle of the city, and enjoy a good drink or a snack. Go on!
Still south, but further north.
In Praia da Cova, the Remember . Managed by Patrícia and family, with a staff of well-known local people, on the sea front. Good food, varied drinks, relaxed beach atmosphere. Often on Sundays, sunsets with DJs. Enjoy!
On the way to the field that houses the Cova-Gala, appeared in the landscape about a year ago, the Nalu, by Quinta d'Anta . All-wood bar, carefully decorated, in an enviable location. Good food, varied menu, good drinks and cocktails. If you want to be on the beach without being on the beach, that's where. I also highlight the good music.
Finally, it seems fair and consensual to me, that I also highlight all the collectivities that are spread throughout the municipality, and that are more than many, that with their social rooms, their headquarters and their bars, provide everyone with unique and unforgettable moments! A big welcome to all those who make associativism a way of being and being. Thank you.
That's it, dear readers and friends.
For now, we are done.
Is there more?
Yes, of course. But it can't be all at once.
A warm hug.
[photos taken from the social networks of the respective establishments, unless otherwise indicated]